ErinKellison.com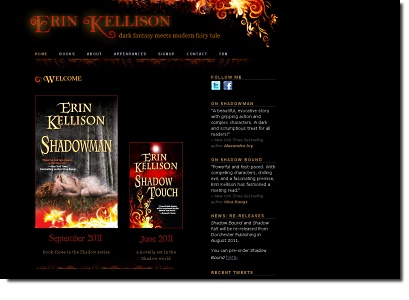 ErinKellison.com is the online home of paranormal romance author Erin Kellison.
OK full disclosure right up front here...there's a reason my Twitter handle is "mrkellison"...Mrs. Kellison is indeed my better half.
But that doesn't change the fact that it's a pretty cool website, am I right?
Nothing too fancy going on here, and that's the point. I'm not a designer, but I play one on TV occasionally, and I have fun in that role. The KISS methodology that I try to follow religiously in the programming world also really applies to the design world. So, we have lots of nice and simple HTML and CSS work here, with some judicious use of cool stock photography for the branding elements.
Cool Note #1: Check it out - Kensington Books liked the branding we did so much, they have started including the fire flower motif on the covers of Erin's next two books! How cool is that?!?
Cool Note #2: OK, when you visit the website, you HAVE to play Haunted Hangman. It's fun, maddening, and creepy all at the same time. I found a great JQuery hangman script online, modified the heck out of it, added a ghost, and there you have it.
technical stuff
ErinKellison.com was created using ASP.NET, with lots of plain 'ole HTML and CSS goodness. Any client-side stuff was done using JQuery...I have been searching for the original version of the hangman script, but can't for the life of me find it. Once I do I'll post a credit link here.