KTeen Academy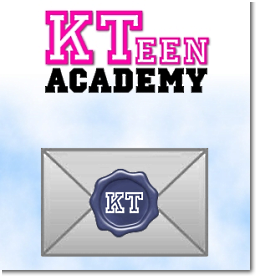 KTeen Academy is an online widget promoting Kensington Books' KTeen publishing titles.
Kensington Books needed a simple but effective online widget to promote their KTeen line of titles. They had the concept of a KTeen Academy questionnaire which would assign the user to a virtual dorm based on their answers. I worked closely with Kensington's marketing team to finalize and polish the concept, text, and artwork, and we came up with something that is a great user experience.
The widget now resides on the main KTeen page as well as the KTeen Facebook Fan Page. Check it out and see what dorm you fit into!
technical stuff
The widget was created using HTML and Javascript (courtesy of my old pal JQuery). I first created a quick proof-of-concept just so I could make sure the animations would work as desired. Once we were satisfied, I went ahead with it. The idea was to open an envelope to display a letter containing the questionnaire. The questionnaire was to be a wizard-type format, with each answer revealing the next question until the final one was answered.
I used JQuery's slice() method to slice up the question divs into individually displayed sections, and used combinations of animate() and fades to show/hide the rest of the content.
View the widget on the KTeen site and on Facebook.